When you have two rather similar happenings going at the same time, you can't avoid making comparisons.
One was the press conference for Comics Xchange. The other was the press conference for AFA11.  Comics Xchange press conference was at Goodman Arts Center last Friday, 23rd Sep. AFA11 press conference was at AKB48 Cafe, 26 Sep. Two press conference within a couple of days.
Two press conference which could not be more different.
Let's start with the press conference for Comics Xchange first. Poor Comics Xchange. They are already the less known event and now they've got to content with AFA11 hype too. Unlike the details to AFA11 which is already spreading everywhere, Comics Xchange could use more publicity. Other than me, the only other aniblogger present was Tueac, representing Ani-Culture. And he came late too. So he missed out the front part of the conference.
I was not particularly on time either. The conference took place in one of the seminar rooms of Goodman Arts Center and was rather tricky to find. After following the make-shift signs, I finally arrived in at the press conference. Although I had expected to be late, the conference had not started and the Comics Xchange organizers were making their personal introductions to those present. Not that there was a lot of people present. A couple of people seated on each sides, armed with notebooks, pens and the newly given-out media release. These must be the reporters from the various papers.
After making some basic introductions, the press conference started.
Comics Xchange was the brainchild of Moontique of Aspiring Mangaka and Writers' Club in Sgcafe. The basic premises is that it will be a seminar in which people looking to do comics or novels can come and learn something new for their creative development. It won't be just the usual drawing techniques or writing styles. Instead, there will also be a focus on the more business side of things, such as how to market oneself or selling on the digital platform. They approached Association of Comics Artists (Singapore) [ACAS] and the event grew from there.
So instead of a very simple seminar, you have tons of events going on catering to that inner mangaka or hidden novelist in you. On top of the seminar, you will have design workshops or the 24hrs comics marathon. And of course, this is where CDS comes in, the artist bazaar. Cosplay is also welcomed, so just come down in your full regal and parade in front of the National Arts Council.
Yes. You might need it.
After the press conference, Tueac and I stayed back a while longer to talk with the organizers. A couple of exchanges that came to mind.
Why Goodman Arts Center? This is unknown grounds for a lot of people in the community. However, the organizers felt that Goodman Arts Center is where the local creative community will congregate. Even now, there are a whole lot of arts related organizations and companies making the GAC their base. It will be important to introduce and establish the location as where the creatives can come to to do their creative work.
Why not a seminar by CDS in the future? Well, our 'creative director' is already giving workshops over at Anzac. It is not something that we don't see ourselves doing. We might. But not in the near future. We are, after all, a doujin circle comprising of mainly doujin and fanart illustrators. And there are others who are just as, or more, qualified to do so than us.
The ACME trinity of Tiger and Bunny, Madoka and TouhouxBRS
CDS has dawdled for quite a while before we decided to just take up a booth at Comics Xchange. Comix Pandora and Daiyaku had gone and taken a booth before we even decided to do so. Our initial hesitance lies in the fact that we don't have THAT much doujins, let alone original comics, under our 'collection'. It seemed rather strange to be there for us. However, after some consideration, we decided to just go for it. Original concepts have been something we have been toying around with and there doesn't seem any harm in us going for this event. You should expect old goodies such as the 'holy trinity' from ACME and the illustration book we are selling for our Anzac friends. On top of it, since this is a comics event, we should be giving away the latest work we did for Competition Commission of Singapore. It's not our usual stuffs but it should be quite an educational read. AND it's a manga.
The third of the series and a return to basics
Something I like about Comics Xchange is also their focus on local talents. It's not always the anime-manga stylistic approach that we like or are used to. But hopefully this will help the local comics industry and inspire a good number of rivals and competitors for us. The local scene has talents and sometimes, it is worthwhile to take your eyes off the our golden land of Japan to look inside. Then you would find these little gems of talents that we should also be encouraging and fanboy(girl)ing about.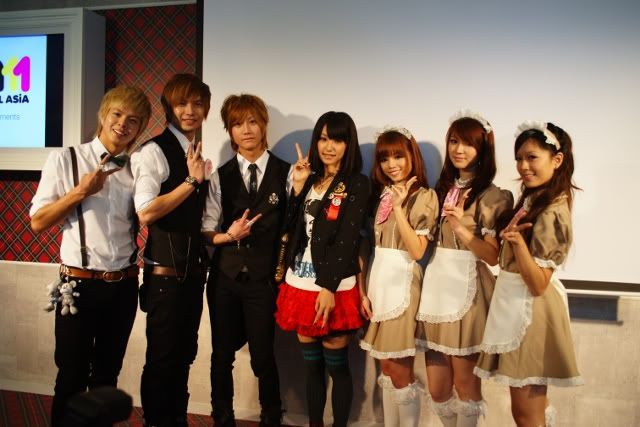 Butlers, maids and LiSA. I was wondering why all the butlers are blond.
(c) Anime Festival Asia 2011
The press conference for AFA11 was a totally different world. We've attended the first AFA11 conference and this is the second one which promises to reveal everything. Of course, most of the details would have been flying around the internet by now. You can probably just go down to their official website and have a look. I'm sure you will be very excited about the whole mix of line-up waiting for us. LiSA gracing the press conference also brought a pleasant (though not necessary unexpected) surprise for us. The entire event was a perfectly choreographed and professional affair. The announcements were designed to tantalize the inner fanboy/girl in us and the setting at AKB48 cafe enhanced the wonderful atmosphere.
Some of the more interesting information that CDS is interested in:
Now we know about Oppai and Pantsu day
Kaname's Twitter avatar is courtesy of Kuso-Taisa
Kaname and Danny Choo are back in Singapore. That means more cosplay, happy fangirls from Black Label and more Mirai. Given the amount of stuffs we did for them, I think it's about time they drop by our booth this year. Right?
Hatsune Miku live concert on Day 1. Apparently this will be the first time they will show the Miku holographic concert in Asia. Either Japan is no longer part of Asia or this REALLY is the first time it is played. Either ways, a couple of us are pretty interested in Hatsune Miku and will be looking forward to it.
Homu Homu rocket jump
Chiwa Saitou is coming. Her most prominent role recently was Homura from Madoka. That is sure to guarantee a lot of hype and interest already. And we shouldn't discount all those outstanding voice works she has done in the past prior to Madoka. There's Becky from Pani Poni Dash, Subaru from Nanoha Strikers and Hitagi from Bakemonogatari among others. WaHa is already pretty hyped about her appearance. Definitely something that we will be looking out for.
Masayoshi Tanaka, character designer for Anohana, Toradora and other anime will be coming down. It will be an opportunity for our artists to fanboy over another artists and maybe pick up some pointers during his talk.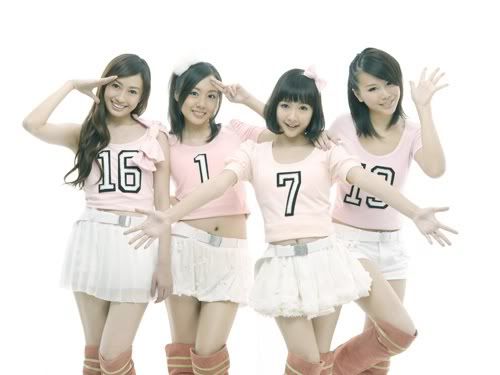 SEA*A. Get used to them.
AFA11 is all about delivering Japanese content that our locals are clamoring for. However, amidst all those foreign talents, we have SEA*A. A (mostly) local girl band that specializes in anime songs. They have been singing the Vanguard ending song and that song will be the theme song for AFA11 as well. We won't be getting away from the song for a while. They will also be sharing the stage with some of the Japanese stars on AFA11 Day 2 so that will be the chance to get some of our local songstress into the international scene.
Now for the difference. Perhaps it is due to the inherent difference between the main target crowd for both events. Compared to the Comics Xchange press conference, the AFA11 conference was very well attended. There are the media. Then there are the blogs. Almost all the prominent blogs had one representative among those present. Some managed to sneak in even more. Other than that, people are ustreaming the conference live for those watching from the computer screen. People are just more naturally excited about AFA11.
Comics Xchange's core audience are the creators. AFA11′s the consumer market. And the creator-consumer ratio is naturally skewed towards the consumer. Of course, most people would be hyped and excited about AFA11 compared to Comics Xchange. That said,that didn't mean that Comics Xchange will be a poorer event than AFA11. No, they are different events with different target audiences in mind and their programme lineup is planned differently. CDS will be supporting both events in our own capacity, be it publicity or presence. While our booth at Comics Xchange is confirmed, we can only confirmed our AFA11 presence on a much later date since we are still in the midst of talks.
So drop by our Comics Xchange booth this weekend. GAC is easily accessible from Mountbatten MRT and you will get to meet many local artists there too. Plenty of other booths as well and not to mention the cosplay. As for AFA, you probably won't need my encouragement to decide. Just go for it!